WHITE PAPER
Expanding Network Detection and Response to the Cloud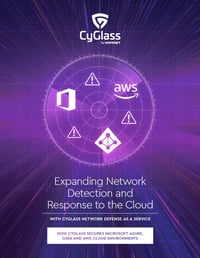 Are you struggling to extend your cyber defenses to effectively cover cloud and hybrid cloud networks?


The advent of COVID-19 dramatically increased the move to cloud applications. This rapid transition changed the traditional network, built around data centers and office/facility locations, and the network defense services that protect it forever.
This new hybrid cloud network creates significant challenges for IT and security managers as they work to protect both their network and cloud environments safe from a growing number of cyberattacks.
While protecting the new cloud environment is critical, the legacy network remains an area of focus for visibility and defense. That is because cyber attackers can now compromise either an application or account inside the network, compromise an Azure admin account and gain easy access to sensitive data in the cloud or move back into the network to access sensitive data there.
Sadly, in the rapid move to the cloud, many mid-market organizations are playing cybersecurity catchup with their cloud deployments.
Read this whitepaper to discover new and unique capabilities to help you manage and protect your cloud environment, including
how to take network security processes and move them to the cloud, delivering visibility to cloud risks and threats with the perspective

Surface multiple indicators of compromise for user based attacks of cloud identities

Identify the user account and IP address related to cloud based risks and threats for rapid, effective mitigation